Discussion Starter
•
#1
•
I was looking through some old photographs and ran across one of my Grandmother. What a difference the women of today dress compared to back then. My Grandmother was born in the 1890's, Grandfather in the mid 1880's.
The women, from left to right are Aunt Sylvia, Grandmother Mae, Aunt Myrtle and Aunt Minnie. The last woman was a family friend and there was no name on the back of the photograph.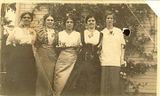 They lived on a farm around the corner from the one my Grandparents eventually owned and where my Mother was born, photo below of where my Mother was born in 1918.