Discussion Starter
•
#1
•
This thread is to post pictures of your stock PCV.
Please include
Mileage (on factory part)
Oil used (syn or dino)
This item is located on the valve cover close to the firewall.
It can get clogged and lead to some issues- one being an increase of oil pooling in your air tube going to the throttle body.
The 2009-2012s had the holes which were too small. On many- the holes get plugged up. 2013's and up had the bigger holes.
Some folks do this mod AND add an oil catch can.
From the Camaro forum- "if the crankcase cannot evacuate properly all the damaging combustion byproducts will accumulate in the crankcase greatly shortening engine life."
Member SC2150 on the Camaro forum does a great job of describing why its important to keep this clean and free flowing.
For some interesting reading-
http://www.moderncamaro.com/forum/v6-engine-discussion/53385-llt-lfx-pcv-orfice-mod-importance.html
the Mod- is to take out the part and drill bigger holes. 7/64 on the top. and 5/64 on the 2 bottom holes.
If its plugged up- youd have to also clean it out.
Though it was recently brought up in the Enclave forum- that the part was now available.
I ordered the part. It does indeed show up with the smaller holes.
I simply drilled bigger holes.
If you have a new part.
Simply use pliers and grab the barb- turn clockwise and counterclockwise to help bring it up. It wont matter if you scratch up the old part.
If you will be reusing the old part- be more careful as it easily gets scratched and dented.
The put the part back in, I put a little bit of oil on the lower portion of the PCV and then gently tapped it in.
Others have used a socket over the PCV to help tap it in. (socket touches the large flat portion of the PCV).
-----------------------------------------------------------------------
Mileage- 123,467
Oil- Valvoline Conventional 5W-30 (Dino).
I had never removed mine.
I clean my tube at every oil change (5,000 miles).
I get small amounts of oil pooling in the air tube. Never excessive.
My recent oil change had the most oil in the tube out of all my changes. (though still not overflowing from the tube).
So out of curiosity and the fact the part became available I decided to change it.
I was pleased that it was not completely plugged for the miles on engine.
I put my lips on the OEM unit and exhaled-- theres air flow-- but the new one with bigger holes- flows much better.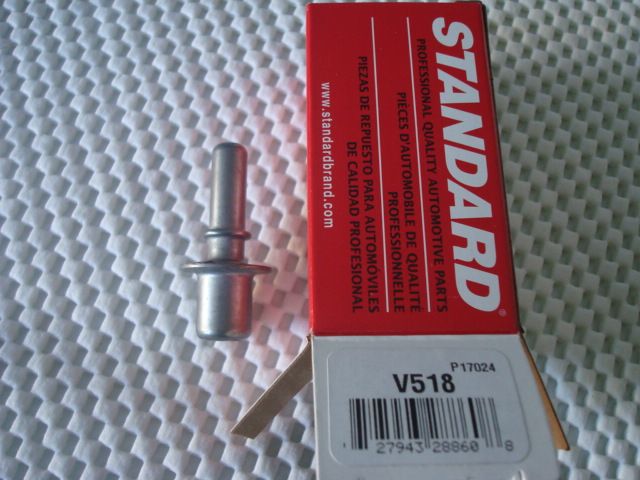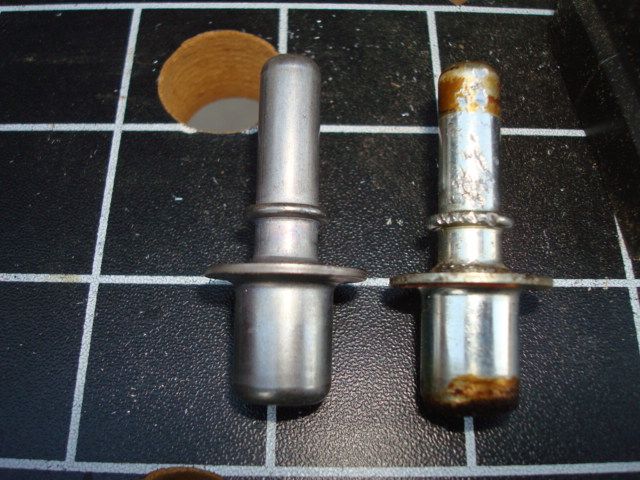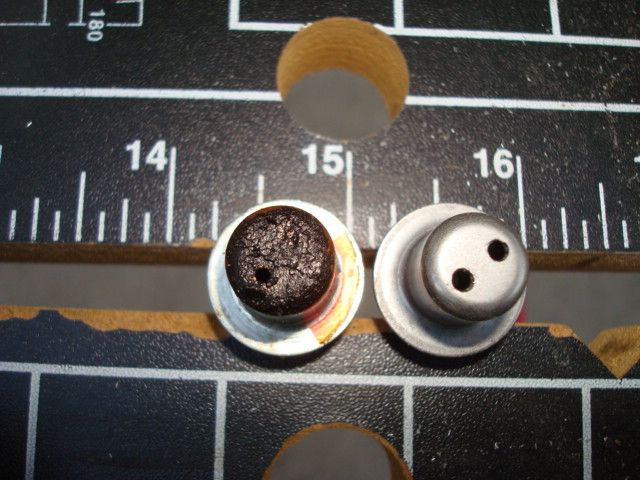 Not completely plugged- so thats good news.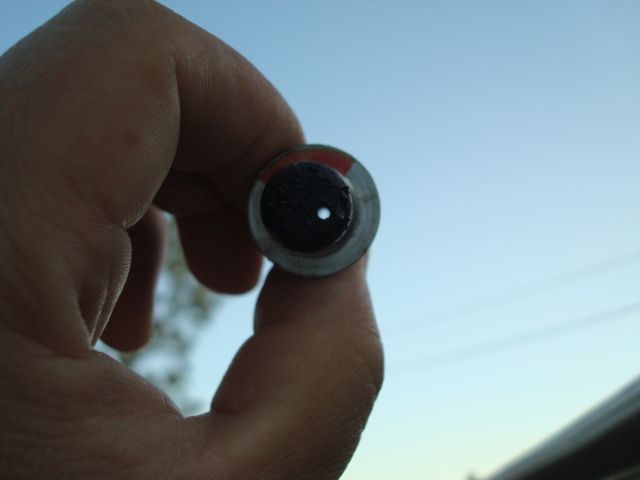 original size hole and the bigger hole